A Legacy of Service
Retired General's Commitment to Education and Service Endures Through Charitable Fund
General William D. Lackey was born and raised in Statesville and attended the University of North Carolina at Chapel Hill. After completing the reserve officers' training corps program at Chapel Hill, General Lackey devoted 35 years to serving our country in the U.S. Air force and North Carolina National Guard.
After retiring, General Lackey returned to Statesville and continued his commitment to a lifetime of service, including serving on the Board of Trustees for the Iredell County Community Foundation, one of Foundation For The Carolinas' 13 regional affiliates.
When he was diagnosed with a terminal lung disease, General Lackey immediately began working with his local attorney and philanthropic advisors at Foundation For The Carolinas to make legacy plans. He opened an FFTC Designated Fund, which would receive the majority of his estate and fund grants to four organizations annually. 
Throughout his life General Lackey was passionate about giving people opportunities to succeed and believed education is key to fostering growth. "I have received great joy in assisting others who were genuinely trying to better themselves in life," said General Lackey.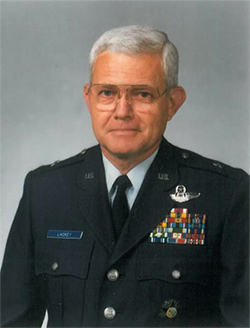 In honor of this commitment to education and service, the William D. Lackey Charitable Endowment now funds a full four-year football scholarship at UNC Chapel Hill and several scholarships for children of North Carolina Army and Air National Guard families. It also funds a nursing scholarship at Mitchell Community College, in memory of his mother who was a career nurse. The balance of General Lackey's fund each year goes to the Iredell County Community Foundation to be used for its annual competitive grant process.
Through the creation of this fund, General Lackey not only hoped to a make a difference in his community for generations to come, but also to inspire others to leave a legacy.