Inspiring the Art of Philanthropy
Luskis Share Love Of Art With Community
When Fidel Castro seized power in Cuba, Sonia and Isaac Luski made a dramatic, life-changing decision – to flee their homeland with their children for the safety and freedom of the United States. At the urging of Isaac's cousins, Bill and Shelton Gorelick, the family chose Charlotte as their destination.
Eventually, the late Issac and Sonia Luski became two of Charlotte's premier arts patrons and philanthropists. In fact, when they were leaving Cuba, the Luskis traveled with belongings that fit in only four suitcases – but they included among their few possessions two commissioned paintings they picked up at the artist's studio on the way to the airport.
Those paintings created a cultural touchstone to their former country. They also formed the nucleus of what became an extensive, eclectic collection of museum-quality artwork. As their commercial real estate business prospered, so did their ability to augment their collection. While it includes paintings, portraits, sculptures, woods, pottery, jewelry and fibers, the focus of the Luskis' collection is primarily on contemporary glass. The pieces are a kaleidoscope of colors, intricacies, textures, patterns and sizes.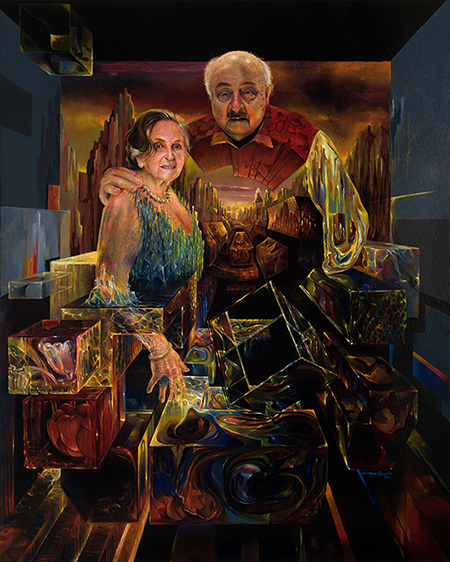 It is an intensely personal collection, sourced from their world travels, studios, galleries and the Penland School of Crafts. Penland, a national center for craft education in the Blue Ridge Mountains of North Carolina, introduced the Luskis to the medium of glass. The couple visited the school regularly, and many of the artists there became close friends as well as recipients of their support.
As art aficionados, the Luskis appreciated the creative provenance of each work and the close relationship that invariably developed with its maker. Yet as much as the Luskis enjoyed living with their art, they derived equal pleasure from sharing their bounty. "We came to the conclusion that art is to be shared," Isaac said. "It's good for it to be exposed and for people to see it."
For years, the Luskis donated glass art to Foundation For The Carolinas because they admired the organization's work and leadership. In 2011, the Luskis gave a significant portion of their collection to FFTC for its new headquarters facility. Their son, Moses, and daughter, Ellie Valenstein, joined them in making contributions of art. In their honor, the Foundation dedicated the first floor of its building to their collection – the Sonia and Isaac Luski Gallery is open to the public, free of charge, during business hours.
The couple also donated hundreds of pieces to museums, hospitals, gardens, libraries, schools and other institutions in North Carolina and beyond, including Daniel Stowe Botanical Garden, Shalom Park, Mint Museum of Art, Levine Children's Hospital, Gregg Museum of Art and Design at North Carolina State University, Hickory Museum of Art and Asheville Art Museum.
Portrait by Conrado Basulto