The Power of Endowment
Years later, Lucille Giles' unrestricted gift continues to touch lives
Lucille Giles is an example of how one gift can go a long way, improving thousands of lives years after it was established. After giving millions of dollars throughout her life to a variety of charitable causes, Giles capped her tradition of philanthropy with an extraordinary bequest of $35 million to Foundation For The Carolinas in 1996.
Giles' stipulation was that her bequest be used "to create a fund for general charitable, educational and recreational needs in Charlotte and Mecklenburg County," her home for most of her life and the site of her family's professional success.
The Lucille Puette Giles Endowment Fund was established, with the principal invested in perpetuity and the earnings devoted to grants. The Foundation's regional affiliate, the Charlotte Mecklenburg Community Foundation, makes grants from the Giles fund that align with donor intent. Over the years its grantmaking focus has included such areas as children and youth, the environment, social capital and economic opportunity.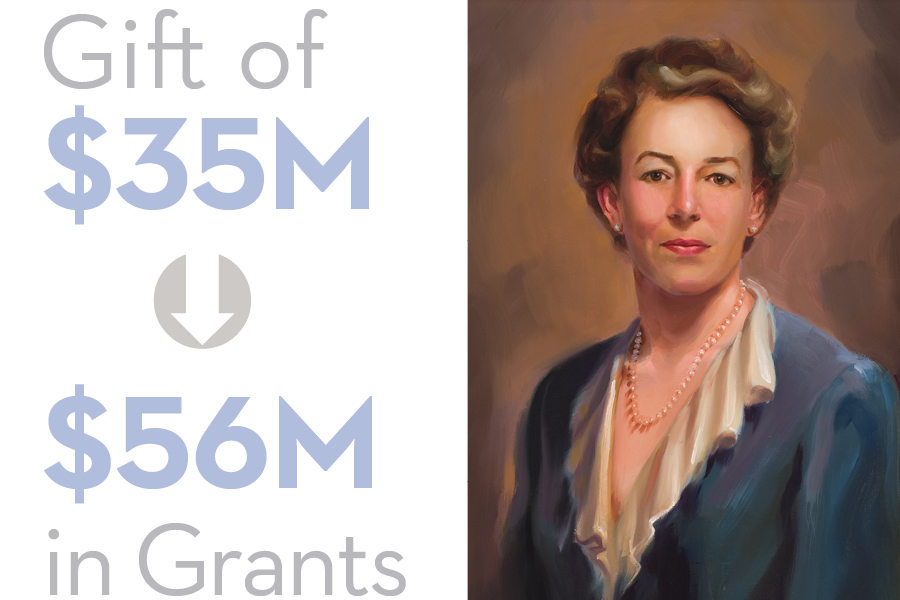 Organizations and initiatives that have benefited from Giles' gift include: Latin American Coalition, Carolina Thread Trail, Charlotte Bilingual Preschool, Read Charlotte and Time Out Youth, among many others. As of 2020, $56 million in grants have been awarded to nonprofits from the fund, while maintaining a current market value of more than $37 million.
That Giles chose to support her community so generously is no surprise. Her father, Ross Puette, founded Carolina Paper Board Corporation (now Caraustar). Both parents set a strong example of giving and volunteerism. Giles' sister, Mary Liz Francis, recalls that their parents "would give away their shoes or the shirt off their backs if someone needed them." Their father was an original charter board member of Foundation For The Carolinas, thus beginning the family's relationship with the foundation.
"Lucille was wonderful, generous and sharp as a tack," Francis said. "I don't think she thought about a legacy. She was just very caring."
Giles also established an FFTC Donor Advised Fund, into which she deposited many gifts for distribution to community organizations. She was especially active in supporting early childhood education and care. An early gift to the Foundation of $1 million for its grantmaking endowment, designated for "new and innovative social and community service programs," foreshadowed her eventual bequest.
Like her parents, Giles maintained a relatively low profile with her giving, preferring for the most part that her gifts remain anonymous. Friends and colleagues who knew she had means and were familiar with her good works were nevertheless astonished to realize the extent of her wealth when her gift to FFTC was made public following her death.
Giles' unrestricted gift has provided FFTC with the means and flexibility to address evolving community needs for generations to come. Learn how you can create your own legacy.
Learn more about the Foundation's recent grantmaking.