Bettering the Human Condition
Professor Nish Jamgotch's Unique Legacy Honors Local Humanitarians
Dr. Nish Jamgotch Jr. Is still a teacher, even though he retired as political science professor emeritus from UNC Charlotte 25 years ago. Now, his lessons are taught through highlighting the good works of others. While the classroom has changed, the man who found joy in teaching others has not. "Teaching is a wonderful profession," Jamgotch said. "I wouldn't have it any other way."
Jamgotch has called Charlotte his home for more than five decades. Since retiring in 1993, Jamgotch has fully devoted himself to giving back to his community. As the son of immigrant parents and through his extensive academic career in international relations, he brings a worldly perspective to giving.
His philanthropic vision of "bettering the human condition" is realized each year through the Nish Jamgotch Jr. Humanitarian Award, which is presented to an individual or group that demonstrates exceptional service to the Charlotte-Mecklenburg Community. Jamgotch established a charitable fund at Foundation For The Carolinas to finance and facilitate the award, which includes an unrestricted monetary gift and public recognition.
"When we discussed Dr. Jamgotch's vision for the award, he described it as a 'mini-MacArthur Fellows award,' and we instantly knew what he meant," said Brian Collier, Executive Vice President with FFTC who oversees the Foundation's civic work. "It's been a tremendous honor to work with him to create a unique local award that celebrates and lifts up residents of Mecklenburg County who do remarkable and inspirational things every day. We join Dr. Jamgotch in his vision that the celebration of individual acts of courage and creativity will serve as an example for others to take action."
Like any good teacher, Jamgotch continues to search for answers himself. As he ponders his own legacy, one question keeps coming back to him: "Have I done enough?"
From refugee to American Dream
Jamgotch's parents were among many Armenian families forced to flee their homes in Turkey during World War I. While they came to America separately, they met in Minneapolis and married during the Great Depression. By the end of World War II, they had five children.
As a student at the University of Minnesota in 1950, Jamgotch became interested in the newly developed Russian Area Studies Program, particularly in the growing threat of U.S.-Soviet conflict. He earned two degrees in the program and went on to serve in the U.S. military as a Research Intelligence Analyst in Europe. He was sent to Germany to interview defectors from Armenia and the Soviet Union, writing reports that were funneled to the Pentagon.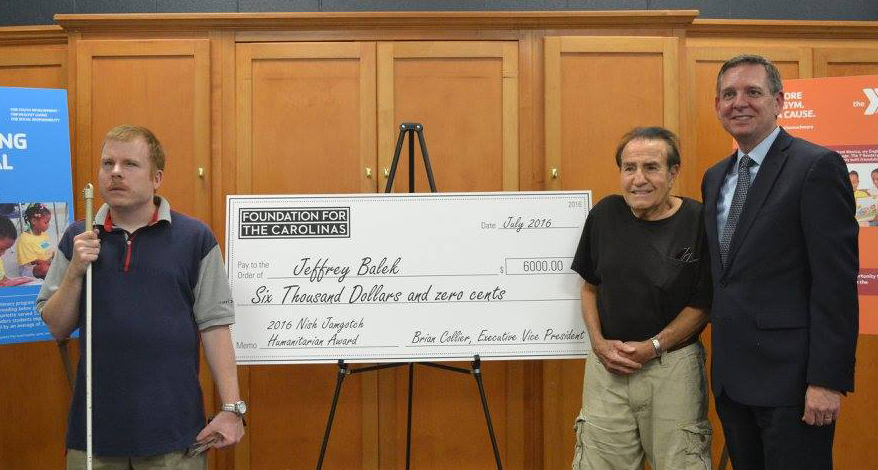 Jeffrey Balek (left) receives the Nish Jamgotch Jr. Humanitarian Award from Dr. Nish Jamgotch (center) and Foundation For The Carolinas' Brian Collier.
Advanced work at Georgetown University and the University of California at Berkeley culminated in a Ph.D. in political science and international relations at the Claremont Graduate School in 1964.
Throughout his career, Jamgotch explored the often-hidden avenues of cooperation that existed between the United States and the Soviet Union – avenues that played a major but rarely recognized role in decreasing the chances of a deadly nuclear exchange. He published extensively on this topic, and his research was presented in the 1989 volume, "U.S. – Soviet Cooperation: A New Future."
Jamgotch's career was crowned by numerous achievements, including selection as a Hoover Scholar at Stanford University and as Associate at Harvard University's Russian Research Center.
"My take on international relations has been to stress the importance – both at an academic level and with my students – that in international politics, everything should be negotiable," Jamgotch said. "During the Cold War, we would either negotiate and agree, or we'd blow up the world."
Making a lasting impact at UNC Charlotte
While Jamgotch's academic career coincided with the rise and decline of the Cold War, his UNC Charlotte career paralleled the phenomenal growth of the university.
After completing his Ph.D., he spearheaded the development of the university's political department and international studies program and became a well-regarded instructor.
Professor Jamgotch now misses the daily interaction with students. He is occasionally approached by former students who are eager to greet one of their favorite professors. Whether at the grocery store or the Levine Jewish Community Center, where Jamgotch swims laps four times a week, they often thank him for having enriched their academic lives.
"I cherish those encounters," said Jamgotch. "That kind of psychic income plays to my intellect and basic human need to be recognized."
Beyond his impact as a teacher, he also gave several rare and valuable gifts to UNC Charlotte's Special Collections at J. Murrey Atkins Library. These gifts, made in memory of his parents, included an Armenian prayer scroll dating from the 1790s, videotaped interviews with Soviet diplomats and a unique stamp collection, commemorating U.S. and Soviet space achievements.
Leaving a philanthropic legacy
In 2012, Jamgotch turned to Foundation For The Carolinas as "professional administrators of philanthropy" to help achieve his lifelong purpose of bettering the human condition. His goal was to launch an annual award that recognizes humanitarian efforts – echoing a similar program he led for students at UNCC – and that encourages cooperative problem solving by local community leaders.
In his words, "to be creative means to uncover something new; or to synthesize seemingly unrelated experiences in a fresh and inspiring way; or to provide a foundation for future intellectual and scientific breakthrough that can truly make a difference."
Currently, Jamgotch's fund supports the annual presentation of the award. In the future, the bulk of his estate will be left to Foundation For The Carolinas through a planned gift, establishing a permanent endowment to carry forward his humanitarian work.
"It has been a unique opportunity working closely with Dr. Jamgotch to envision what is most important to him in creating a legacy," said Catherine Warfield, Senior Vice President of Philanthropic Advancement at FFTC. "It's important we structure a plan that ensures FFTC can honor that vision well into the future."
To date, the Nish Jamgotch Jr. Humanitarian Award has been awarded to the following individuals:
Thereasea Elder, a public health pioneer who was among the first to integrate health care in the Charlotte region.
Ric Elias, CEO of Red Ventures and founder of Golden Door Scholars, a nonprofit that creates educational and career opportunities for high-performing undocumented students.
Jeffrey Balek, a blind man using specially made braille books to volunteer at Y Readers, the YMCA of Greater Charlotte's literacy program for students in grades K-3 who are reading below grade level.
Charlotte Mecklenburg Police Department Major Mike Campagna and Mecklenburg County public defender Toussaint Romain, for their work during the 2016 Keith Lamont Scott protests.
Riley Howell and Reed Parlier, two UNC Charlotte students who died when a gunman opened fire in a UNCC classroom on April 30, 2019.
Sil Ganzó, the founder and executive director of ourBRIDGE for KIDS, who temporarily shifted her nonprofit's mission during the pandemic from providing afterschool educational services to distributing food to the communities they serve.
Adrienne Threatt, co-founder and executive director of Hope Vibes, for her work aiding the homeless community during the COVID-19 pandemic.
"When I think about the concept of legacy, three major historical influences come to mind: Leonardo Da Vinci, Wolfgang Amadeus Mozart and Jonas Edward Salk," said Jamgotch. "They each left a legacy that is priceless."
FFTC offers personalized service and expert guidance to help donors, such as Jamgotch, establish a unique and meaningful philanthropic legacy. Learn more today.